Why Piggy-back?
Piggy-back lenses offer a range of advantages that enable problematic patients to continue lens wear. They provide the comfort that is needed for wearers with hypersensitive corneas and also the protection required by wearers with highly irregular and traumatized corneas, minimizing the potential further damage caused by long-term wear of gas permeable (GP) lenses.
My first attempt at a piggy-back lens system was in the mid-1970s, and "no" it was not successful in the long-term. This was because the lenses at that time were made from materials of low oxygen permeability (Dk) and could not prevent the corneal hypoxia that ensued. Now however, piggy-back lenses are regaining popularity with the advent of high-Dk silicone hydrogel lenses overlaid with a high Dk GP lens. Indeed, even reverse piggy-back lens wear is being used to prevent the frequent loss of an unstable GP lens on a badly damaged cornea (soft over hard).
In this case study I review a patient that was referred to me by a corneal surgeon and was fitted with a piggy-back lens system.
Case Study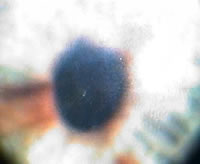 Figure 1 - click to enlarge
Patient DS is a full-time artist and runs a very successful art school with 30 pupils. He was 92 years old on presentation in May 2003, and was unhappy at his inability to continue painting or working due to poor vision!
DS's corneal surgeon referred him to me for contact lens fitting in the left eye.
His right eye had undergone multiple corneal transplants from 1996 and cataract surgery with an IOL implant, as well as glaucoma surgery for pressures of 24 mm to 60 mm. The cornea was cloudy, moderately vascularised, and still undergoing aggressive treatment.
The left eye had a successful IOL implanted but had subsequently developed gram-negative corneal ulceration and hypopyon (Figure 1). There was central clouding from severe scarring, and marked corneal distortion, best seen in the perspective enhanced 3D image (Figures 2 and 3).
| | |
| --- | --- |
| | |
| Figure 2 - click to enlarge | Figure 3 - click to enlarge |
DS's visual acuity in the right eye was 6/60 and there was no improvement with pinhole so I did not attempt to fit this eye. Visual acuity in the left eye was 6/60 and improved to 6/18 with pinhole, and a refraction of +4.50 / -3.00 x 70 º gave 6/24 of best corrected visual acuity.
A custom GP lens of BOZR 7.7 mm and BVP of +3.00 DS was fitted to the left eye giving 6/12 and upto of 6 to 8 hours of wear time per day (Figure 4).
| | |
| --- | --- |
| | |
| Figure 4 - click to enlarge | Figure 5 - click to enlarge |
DS, his wife and his daughter were all trained in contact lens care and maintenance. His unaided bilateral vision was so poor that his wife became the main person to insert and remove his lenses.
He was delighted with the improvement in vision after his contact lens fitting, and was able to return to work.
By November 2003, DS's wear time was reducing and there was obvious corneal damage from rough insertion. A silicone hydrogel of BOZR 8.4 mm and BVP of +0.50 D was used under the GP lens to protect his cornea, and achieve better comfort and longer wear time if possible (Figure 5).
This piggy-back combination was very successful and today DS wears the silicone hydrogel lens as extended wear with monthly replacement, and the GP lens is worn up to 14 h per day with good comfort and good vision. It has been almost a year and so far his cornea shows no sign of clinical change.
Discussion
My preferred procedure is to initially fit these difficult corneas with GP lenses alone, and monitor progress over time. If it becomes necessary, I can then add a silicone hydrogel lens underneath. As nearly plano silicone hydrogels are used, there is no need to change the parameters of the GP lens, although effectively a adjustment to the fit of the GP lens can be achieved simply by choosing the silicone hydrogel in either plus (to loosen) or minus (to tighten).
There may be cases where some spherical power in the silicone hydrogel lens is a slight advantage to vision or fit. Topography performed over the silicone hydrogel in situ can aid in fitting the GP lens.
There are extra costs involved in using two 2 lens systems and some patients may find that the extra "hassle" of using 2 different lens care and maintenance systems are minimized if the silicone hydrogel is worn for extended wear. However I find that the major advantages of comfortable and clear vision for these problematic patients far outweighs the disadvantages and using silicone hydrogels in a piggy-back system is definitely worth considering.